MODEL 63 MOTOR CONTROLLER FOR MATERIALS HANDLING SYSTEMS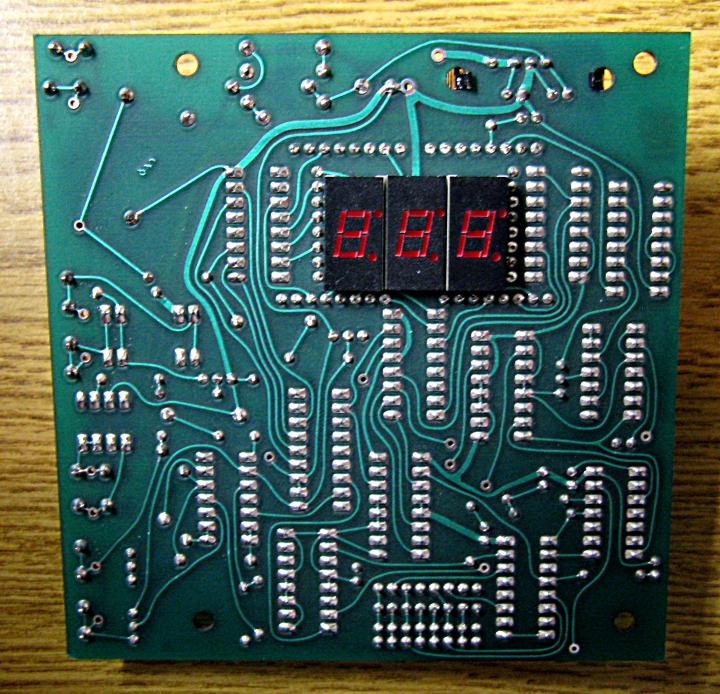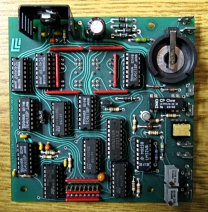 zoom
zoom


DESCRIPTION



Model 63 Rev. C or D. Motor control with keypad interface and display. Replacement for materials handling equipment no longer supported by original supplier.



PRICE



$200.00
HOME
---
MODEL 108 FREQUENCY-TO-VOLTAGE CONVERTER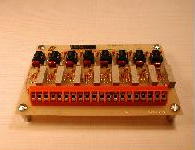 zoom
DESCRIPTION

Data from tachometers, flowmeters and counters can be scanned along with data from analog sources using the Model 108. Each of 8 channels will accept a pulse stream from virtually any source and convert it to a voltage proportional to the input frequency. Each channel has its own full scale frequency adjustment.



INPUT FREQUENCY RANGE

0 to 5KHz
Note: Range can be extended to 0-10KHz by trimpot adjustment.
Other ranges are available as factory options.



INPUT VOLTAGE RANGE

80 millivolts to 50 volts (peak)



OUTPUT VOLTAGE

1 millivolt / Hz
(millivolts out = input/Hz * (5000/full-scale Hz))



ACCURACY

0.1% of full-scale ...typical.
0.5% of full-scale ...worst case.



TYPICAL POWER CONSUMPTION

8 VDC (regulated) ...50 milliamps.



SIZE

4.9 x 3.25 x 0.8 inches.



PRICE

$245.00
sold without power supply or enclosure.



OPTIONS

DC Regulator
HOME
---
MODEL 125 ULTRA-RELIABLE PRECISION POWER REFERENCE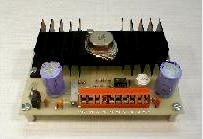 zoom
The Model 125 generates an extremely stable reference voltage with over one amp of current sourcing available. The standard output voltage is 8 VDC, although any voltage from 4 to 20 volts can be suppled as a factory option. The Model 125 is optimized for bridge and strain gauge excitation. The Model 35B 16-Channel Differential Amplifier in combination with the Model 125 yields an economic multi-bridge system. A DC voltage source, regulated or unregulated, is required. The price listed is without enclosure or DC voltage source.



PRICE

$195.00
HOME
---
MODEL 11 TEMPERATURE STABILIZED BRIDGE AMPLIFIER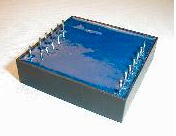 zoom
The Model 11 is a function module designed for mounting on a circuit board. It can provide excitation and amplification for almost any bridge type sensor. When using the Model 57, three jumper programmable gains are available, corresponding to bridge sensitivities of 1, 2, or 4 millivolts per volt. For the standard Model 11, gain is fixed at 500. Optional custom gain settings up to 1000 are practical. Standard excitation is 7.5 volts with sufficient current for one 120 ohm or four 350 ohm bridges. The Model 11 normally controls its internal temperature to 42 degrees Centigrade. If ambient temperature is expected to reach that, an external resistor can be used to raise the set point. A linear power supply is recommended for best stability.



SIZE

2.25 X 2.25 X .625 inches with its thermally insulating cover.



POWER REQUIREMENT

+12 to +15 VDC @ 300 MA
-8 to -15 VDC @ 80 MA
linear supply recommended



EXCITATION OUTPUT

7.5 VDC nominal excitation
minimum bridge impedance 80 ohms



GAIN

x600 nominal



OFFSET

-7.5 MV nominal



NOMINAL RANGE

A 2MV/V Gage gives an output from -4.5 to +4.5 volts



LINEARITY

0.005% of full scale



SETTLING TIME

125 Milliseconds to 20 bits



DC COMMON MODE RANGE

0 to 6 volts



COMMON MODE REJECTION RATIO

-100 dB typical



TEMPERATURE CONTROL POINT

45 deg. C nominal (can be raised with external resistor)



PRICE

$200.00 &nbsp (add $5 for optional insulating cover)



INSTALLATION RECOMMENDATIONS

For best results the Model 11 should be mounted in a shielded enclosure with insulating material packed tightly around all six sides of the module. If the enclosure is warmer than 42 deg. C, an external resistor should be used to raise the temperature control point.


HOME
---



Contact us for sales or technical assistance lawsnlab@lawsonlabs.com

this page last reviewed/modified: